The Blockchain-Based Metaverse Platform 'metaspace2045' Is All Set For The New Revolution Out Of The Existing Metaverse Form
블록체인 기반 메타버스 플랫폼 'metaspace2045', 기존 메타버스 형태의 새로운 혁명 준비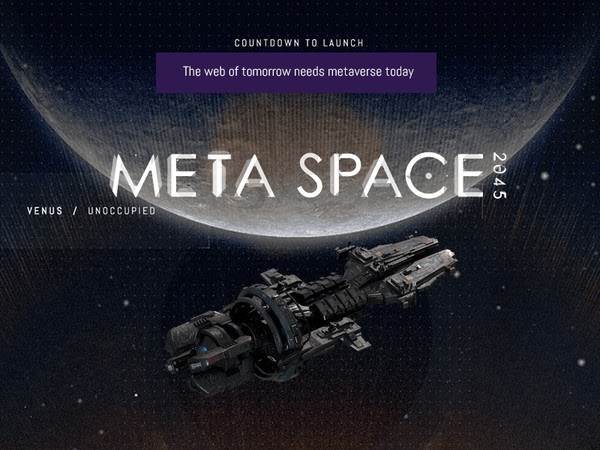 Metaspace2045, global metaverse blockchain project team, is planning to release 'metaspace2045,' a metaverse flatform, in July.
글로벌 메타버스 블록체인 프로젝트팀 메타스페이스2045는 메타버스 플랫폼 '메타스페이스2045'를 오는 7월 출시할 예정이다.
​
'Metaspace2045' is a global consortium project team that take part in global talents aiming to overcome problems of the existing content platform industry and develop decentralized blockchain games that are nowhere else in the world.
'메타스페이스2045'는 기존 콘텐츠 플랫폼 산업의 문제점을 극복하고 세계 어디에도 없는 탈중앙화 블록체인 게임 개발을 목표로 글로벌 인재들이 참여하는 글로벌 컨소시엄 프로젝트팀이다.
​
Based on the Binance Smart Chain (BSC), it aims for a decentralized platform where 'my own game character is used at the same value in various games.'
Binance Smart Chain(BSC)을 기반으로 '나만의 게임 캐릭터가 다양한 게임에서 동일한 가치로 사용되는' 탈중앙화 플랫폼을 지향합니다.
​
The platform under development by Metaspace2045 will be an element of decentralization along with the blockchain game and the game NFT that fostered by oneself, and it will be the beginning of Metaverse world.
메타스페이스2045에서 개발 중인 플랫폼은 블록체인 게임, 스스로 육성한 게임 NFT와 함께 탈중앙화의 요소가 될 것이며, 메타버스 세계의 시작이 될 것입니다.
​
The Metaspace2045 project official said "The blockchain games that have been released up to now difficult to support high quality graphics due to slow Transaction Per Second (TPS) and lack of scalability," added that this is a problem with the blockchain Metaverse project so far.
메타스페이스2045 프로젝트 관계자는 "지금까지 출시된 블록체인 게임들은 느린 TPS(Transaction Per Second)와 확장성 부족으로 고퀄리티 그래픽 지원이 어렵다"며 "이는 지금까지 블록체인 메타버스 프로젝트의 문제점"이라고 말했다.
​
He also remarked that overcoming differences in characteristics from other P2E game characters, the compatibility of graphics, and collaboration with other blockchain are also issues to be solved.
또 다른 P2E 게임 캐릭터들과의 특성 차이 극복, 그래픽 호환성, 타 블록체인과의 협업 등도 풀어야 할 과제라고 말했다.
​
Metaspace2045 is a Metaverse platform project serves as a hub that can collaborate or exchange NFTs between various games in each game through blockchain system.
Metaspace2045는 블록체인 시스템을 통해 각 게임의 다양한 게임들 간에 NFT를 협업하거나 교환할 수 있는 허브 역할을 하는 메타버스 플랫폼 프로젝트입니다.
​
Also, it will develop service related to the real economy including the sale and rental of Metahuman videos through their own MR technology, and aims to implement perfect Metaverse world by bringing this into decentralized distributed network.
또한 자체 MR 기술을 통해 메타휴먼 영상의 판매, 대여 등 실물 경제와 관련된 서비스를 개발하고, 이를 탈중앙화 분산 네트워크로 가져와 완벽한 메타버스 세계를 구현하는 것을 목표로 한다.
​
The project is going to come out into the world in five steps.
이 프로젝트는 5단계로 세상에 나올 것입니다.
​
Step 1: Air Drop and Minting of Genesis NFT
1단계: 제네시스 NFT 에어드롭 및 발행
Step 2: Completion of ecosystem coins and platform
2단계: 생태계 코인 및 플랫폼 완성
Step 3: Launch of "DAWN GALAXY," BNB network blockchain game and build the ecosystem
3단계: BNB 네트워크 블록체인 게임 "DAWN GALAXY" 출시 및 생태계 구축
Step 4: Commodification of Metahuman NFT and build a market
4단계: 메타휴먼 NFT의 상품화 및 시장 구축
Step 5: Build a linkage system between games of NFT
5단계: NFT 게임 간의 연계 시스템 구축
​
It releases games quickly and offers reasonable rewards to game users by interworking to BNB network.
게임을 빠르게 출시하고 BNB 네트워크와 연동하여 게임 사용자에게 합리적인 보상을 제공합니다.
​
The Metaspace2045 official emphasized that metaspace2045 is a global consortium project collaborating with the best blockchain technology teams and marketing experts around executives who actually have been developed and operated games.
메타스페이스2045 관계자는 메타스페이스2045가 실제로 게임을 개발·운영한 임원을 중심으로 최고의 블록체인 기술팀과 마케팅 전문가들이 함께하는 글로벌 컨소시엄 프로젝트라고 강조했다.
​
​
Contact Info:
Name: Sanchez Kim
Email: Send Email
Organization: Metaspace2045
Address: British Indian Ocean Territory
Website: https://www.metaspace2045.com/
​
​
http://business.starkvilledailynews.com/starkvilledailynews/news/article/marketersmedia-2022-7-4-the-blockchain-based-metaverse-platform-metaspace2045-is-all-set-for-the-new-revolution-out-of-the-existing-metaverse-form